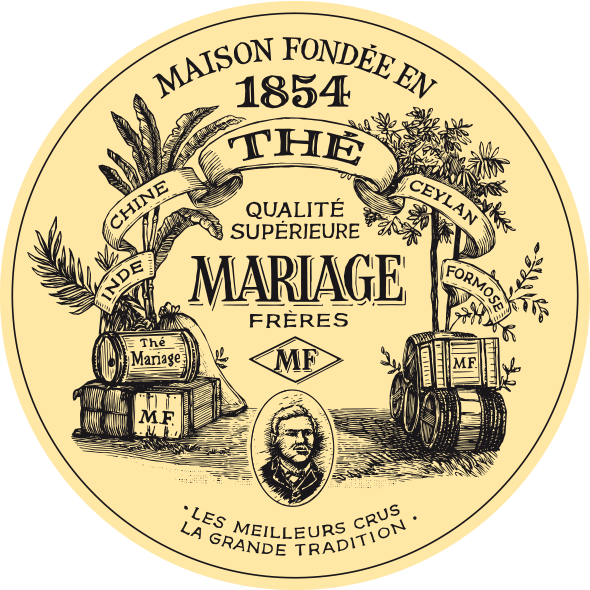 Tea from Mariage Frères
Now available in Nuremberg!
Tea from Mariage Frères at Cave Secrète
The purest expression of the French Art of Tea
This "Maison de Thé" is the most ancient in France, founded on June 1st, 1854 by the brothers Edouard and Henri Mariages, then traders in "tea, spices, and oriental goods".
By then the family was already trading tea and spices for two centuries, since king Louis XIV in 1660 mandated Nicolas Mariage to travel to Persia and establish a tea trade for the royal court of Versailles.
Today Mariage Frères is one of the world's most exclusive merchants in luxury teas.
Their "Haute Couture" of tea provides a unique experience, blending tradition and innovation, and representing the most refined qualities of the French art of living.
For Mariage Frères tea is like great wines, with vintage varieties, unique harvests, grand crus, terroirs, blends, and subtle, sophisticated teas for connoisseurs.
French Tea for Mariage Frères is: the quest for the finest and rarest teas, the skill of classical and flavoured blends, the art of making tea, tea and gastronomy, and the art of giving.
Here are some examples of the Mariage Frères teas that you will find at Cave Secrète:
At Cave Secrète in Nürnberg
Located in the St Johannis district in Nuremberg, Cave Secrète since 2016 carefully selects and imports French and Italian wines and Champagne from independent winemakers.
Cave Secrète is also a gourmet food shop and the French tea of Mariage Frères.
Grand Cru, Empereur Chen-Nung
Smoky, smooth and balanced black morning tea.
This blend is named after the Emperor Chen-Nung who, according to legend, discovered tea in 2737 BC.
It has a subtle aroma with a delicate smoky taste and is a perfect accompaniment to savoury breakfasts.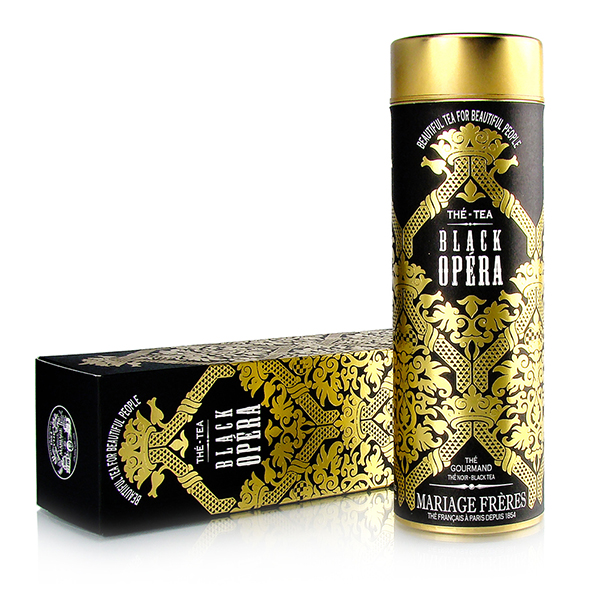 Black Opéra
Black tea with gourmet notes, velvety on the palate, it gives off a scent of red fruits, vanilla and rare spices.
A sensually fragrant black tea.
Black Opéra is part of the "Beautiful Tea for Beautiful People" collection.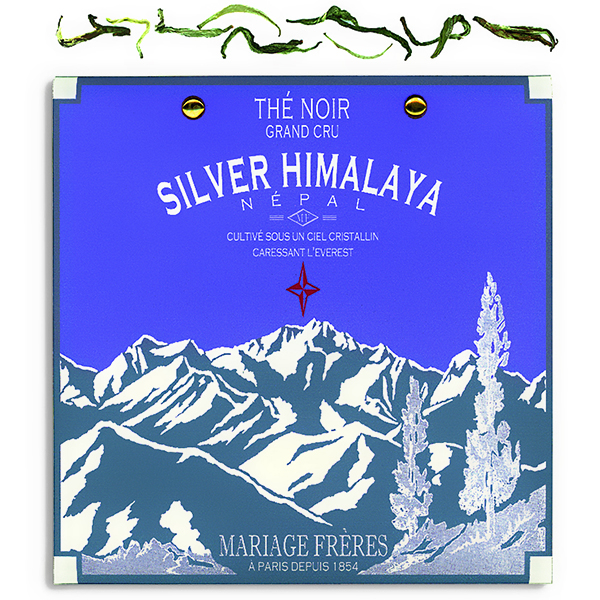 Grand Cru, Silver Himalaya
A family-run secret tea garden located in the high Himalayan mountains near Darjeeling.
A Grand Cru with beautiful hand-rolled, twisted leaves. ich in buds, it delivers a spicy aroma with exotic fruit scents.
Grand Cru, Fuji-Yama
Harvested in spring, this Sencha Grand Cru is grown in the finest tea gardens in Japan.
The leaves have an emerald green colour. A short infusion at 80ºC will give us a tea with jade reflections, very smooth and very pleasant to drink.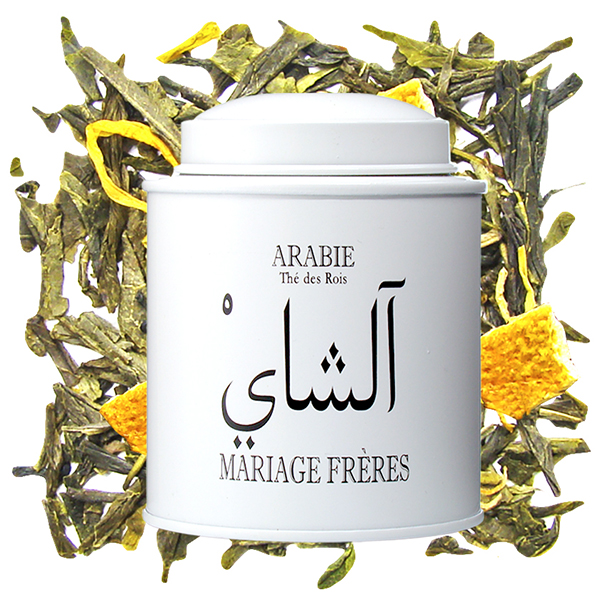 Arabie - Thé Des Rois
A skilful blend of green tea, marigold flowers and Moroccan royal mint, in a white calligraphy canister.
An intense scent of royal mint, combined with floral, citrus and sweet spicy notes.
Jasmine In Love
A seductive and aromatic green tea, celebrating the union of jasmine and rose petals.
A neon green box that contrasts with the other black packages from Mariage Frères.
Thé Bleu Des Légendes
Blue Oolong tea with citrus notes of lemon and lime, slightly oxidised.
It owes its natural colour to the blue butterfly pea flowers, native to southwest Asia. On contact with water, these finely chiselled flowers release their characteristic blue colour.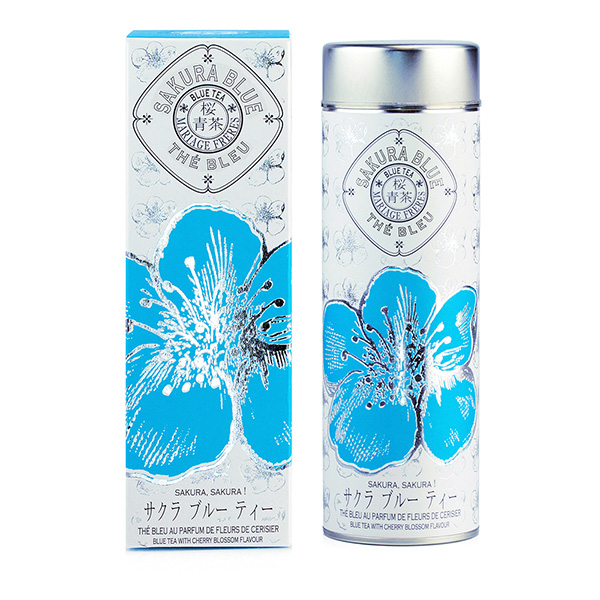 Sakura Blue
One of Mariage Frères' flagship blends, created in 2000, now in a blue version. It is an Oloong mixed with Japanese cherry blossoms, with notes of nuts and sweet almond.
A magnificent collector's canister serves as a protective case.
Majestic Lime & Ginger
Chinese-style blue tea. Its lime and ginger fragrance gives it freshness and dynamism.
You will find dried ginger bits and blue butterfly pea flowers in this Icon canister.
Blanc Et Rose
Dating back to imperial China and celebrated by its rulers, white tea was also called "silver needles" in Chinese.
These young buds, still covered with white down, are harvested in spring and are perfectly paired with oriental rose petals.
A very subtle tea, naturally flowery, fresh and velvety.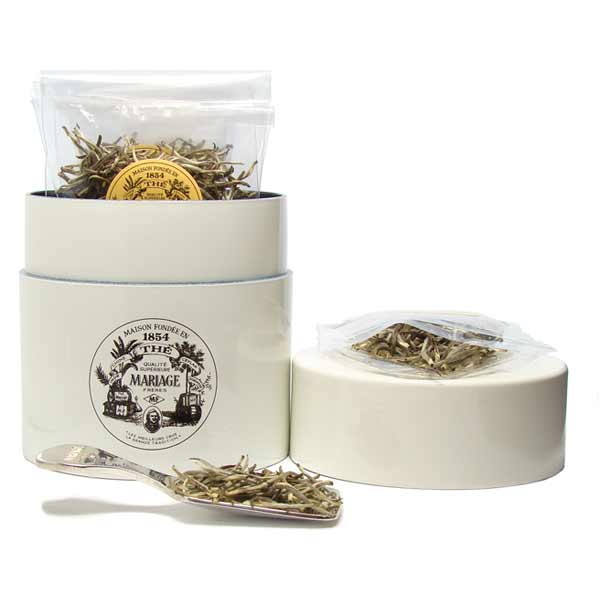 Grand Cru, Thé Blanc Sacré
Young glove wearing women carrying golden scissors harvest the buds of this sacred white tea.
This way, the buds never come into contact with their hands and preserve their purity and immaculate character.
Nothing is known about this harvest, which is shrouded in mystery, except that it takes place in a secret tea garden in Ceylon.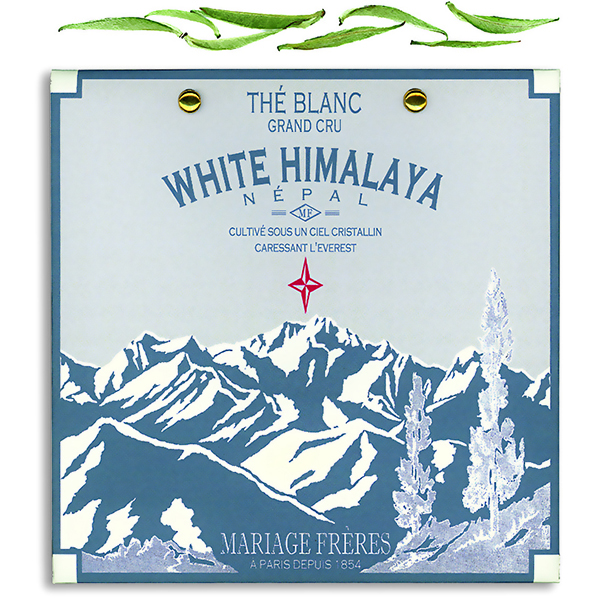 Grand Cru, White Himalaya
Harvested in summer, this Nepalese white tea is a unique experience, magnified by the extreme rarity of this tea, as only 10 kg of leaves are produced in this garden each year.
The buds are sorted by hand in order to keep only the finest among them.
The deep and fresh flavour of the mandarin and wild orchid can thus blossom on the palate and give the White Himalaya a silky finish.
Rouge Métis
A beautiful red rooibos, rich in fragrance, perfumed with black and red fruits, spices, flowers and citrus.
Theine-free, perfect for drinking in the early evening.
Rouge Bourbon
Without theine, this red rooibos with Madagascar vanilla, velvety, mellow and smooth, can be enjoyed throughout the day by the whole family, hot or cold.
Rouge Pleine Lune
A Mariage Frères creation offered by the Mayor of Paris to the Queen of England during her visit in June 2014.
This rooibos is dedicated to the moment of the day when the moon appears in the sky and offers us its fragrances of almond, spices and exotic fruits.
Delicacies & Tea Articles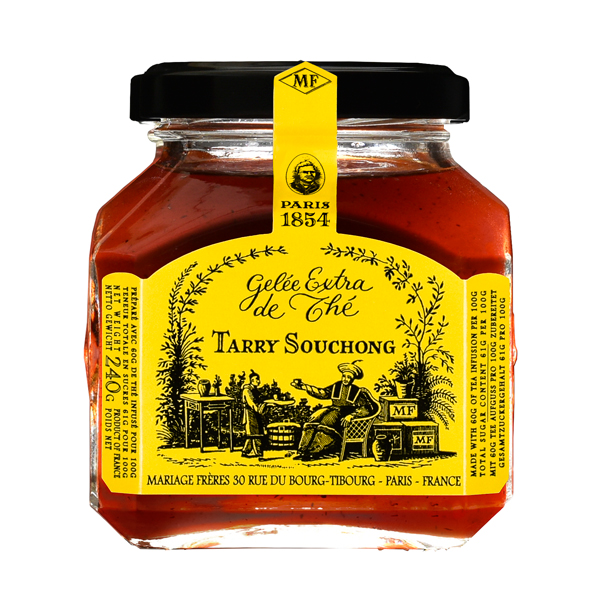 Gelée Extra de Thé - Tarry Souchong
Like a jam, this subtly smoked tea jelly will accompany your muffins, scones, toast or brioches, or your cheese boards.
Produced by Mariage Frères since the 19th century in copper bowls in the traditional way.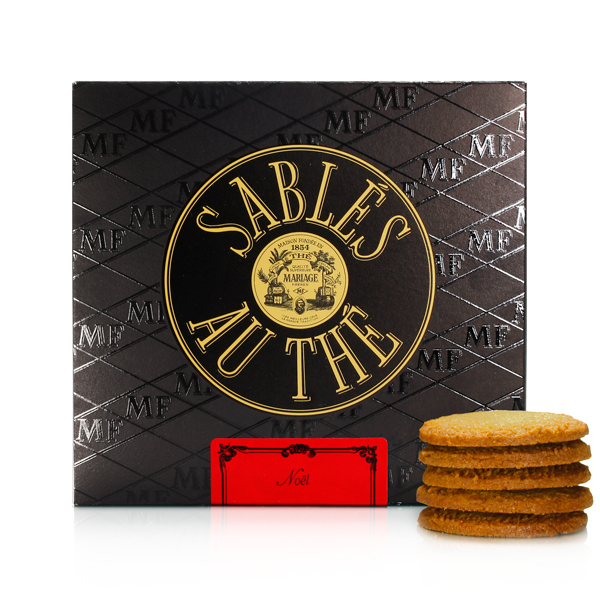 Sablés au Thé - Nöel
Tea biscuits that bring together all the scents of the holidays, like spices, fruits and citrus fruits. To be enjoyed at any time of the day. To be enjoyed at any time of the day.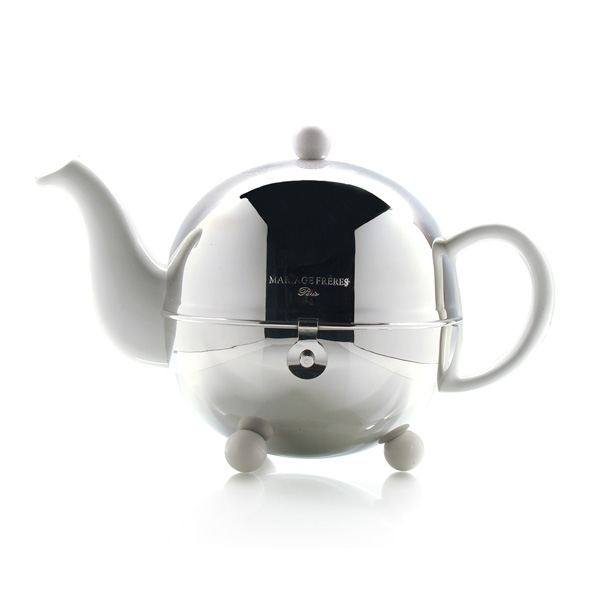 Art Déco 1930 - Théière isotherme
This teapot is the emblem of the Mariage Frères House.
Decorative and functional, this isothermal teapot is perfect for keeping your tea or infusion hot for at least an hour.
At Cave Secrète in Nürnberg
–
Located in the St Johannis district in Nuremberg, Cave Secrète since 2016 carefully selects and imports French and Italian wines and Champagne from independent winemakers.
Cave Secrète is also a gourmet food shop and the French tea of Mariage Frères.
All our products share the same value: we selected each one of them for their quality and the talent of the people who produce them.